Naked: How to Find Your Perfect Partner by Revealing Your True Self by David Wygant (Hay House 2012)
Imagine how easy dating would be if you knew exactly who you were dating from the get-go, and the other person knew the same thing. In Naked: How to Find Your Perfect Partner by Revealing Your True Self, internationally-renowned dating expert David Wygant takes you on a journey that will change your life forever. David will help you conquer your relationship fears and insecurities once and for all, and attract the kind of people you want to meet, date, and build long-term relationships with. Within these pages, you will discover how to use the Law of Attraction in dating to your advantage, how to speak from your heart, how to understand exactly what you want out of life, and how to communicate honestly—with yourself and with your mate. David is one of the most often quoted dating experts in the country, and frequently featured on Yahoo, MTV, MSNBC, Fox News, E! Entertainment Television, The New York Times, MSNBC, Cosmopolitan and Men's Health.
The One Command: Command Your Wealth by Asara Lovejoy (Berkley/Penguin 2012)
Readers have been exposed for years to the idea that they are the creators of their reality. And while books like The Law of Attraction, Ask and It is Given, and The Secret, have all made important, lasting contributions to readers' understanding of how and why this is true, there are essential components that have not been fully explored or integrated. These are truths that the grandfathers of quantum mechanics have inferred but that no one has synthesized into a cohesive system that people can use to change their lives in significant ways. In The One Command: Command Your Wealth, popular radio host, speaker and founder of The One Command process, Asara Lovejoy, demonstrates how the power to change one's life lies within their own brain and biology. The book guides readers through a six-step process behind The One Command, making it practical and easy for readers to implement immediately. Asara's One Command training program has helped millions of people around the world through in-person workshops, teleseminars, Commanding Wealth Circles, online One Command membership, and leadership certification.
Great Sex Naturally: Every Woman's Guide to Enhancing Her Sexuality through the Secrets of Natural Medicine by Dr. Laurie Steelsmith and Alex Steelsmith (Hay House 2012)
Great Sex, Naturally by Dr. Laurie Steelmsith and Alex Steelsmith reveals for the first time how you can combine modern medicine, ancient secrets, and completely natural methods to dynamically recharge both your sexuality and your total health. This invaluable resource gives you many easy, safe, and effective tools and techniques to increase your libido and transform your life on many levels. The book can be easily referenced to address any immediate concerns you may have—such as enhancing libido naturally and safely, diminished sex drive, vaginal dryness, menstruation, ovulation, fertility, perimenopausal and menopausal changes, and many others—or you can read it cover to cover and experience the ultimate sexual health makeover. A groundbreaking resource, innovative and comprehensive, this work is destined to become a classic for women who want to create more fulfilling sex lives. Dr. Steelsmith is a licensed naturopathic physician, co-author of the critically acclaimed book Natural Choices for Women's Health (Three Rivers Press 2005), and is frequently featured in media outlets such as CNN's "HealthWatch," Woman's World, Self, Body & Soul, WebMD, Oprah.com, Women's Health, and many others. Her husband and co-author, Alex Steelsmith, is an award-winning artist and writer, and frequently writes on health-related topics for Nature & Health Magazine, Healthy Living Today, Vision Magazine, and The Honolulu Advertiser.
Growing Happy Kids by Maureen Healy (Health Communications, Inc. 2012)
We all want children to be happy and grow into productive, fulfilled adults, and according to parenting expert Maureen Healy, the secret to that success is in providing a foundation of inner confidence. With twenty years of experience as a spiritual teacher and child development expert, Healy knows that confidence is never "out there" but something to be cultivated from the inside. Healy literally traveled the world in search of the best practices in raising inwardly strong children and the connection between inner confidence and lasting happiness. In Growing Happy Kids, she draws on her Buddhist training, her background in child psychology, and the latest scientific research. The result is her insightful model that lays the foundation for children's happiest lives. Maureen Healy is a practicing child development and parenting expert for over 20 years, writes a popular blog for Psychology Today, and also for the PBS series The Emotional Life.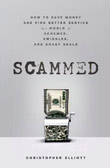 Scammed: How to Save Your Money and Find Better Service in a World of Schemes, Swindles and Shady Deals by Christopher Elliott (John Wiley & Sons 2011)
Once upon a time store prices were simple and fair, businesses stood behind their products with guarantees free of fine print and loopholes, and companies genuinely seemed to care about their valued customers—but those days are long gone. In this groundbreaking exposť, consumer advocate Christopher Elliot reveals the broken relationship between American consumers and businesses and explains how companies came to believe that fooling their customers was a viable, and profitable, business plan.

Blissful Bites: Vegan Meals that Nourish Mind, Body, and Planet by Christy Morgan (BenBella Books 2011)
Cooking in a way that's good for you and for the environment—not to mention delicious—doesn't have to be a pain; in fact, it can be sheer bliss. In Blissful Bites: Vegan Meals That Nourish Mind, Body, and Planet, Christy Morgan shows readers how to make healthy, delicious, animal-product free meals without a lot of effort. Author Christy Morgan, known to her fans as "The Blissful Chef," shows readers that switching to a plant-based diet can be easy and rewarding—for both body and mind. Endorsed by Skinny Bitch authors Kim Barnouin and Rory Freedman, along with Dr. Neal Barnard, Dr. William Tuttle, Ani Phyo and Jessica Porter, Blissful Bites includes more than 150 recipes that make eating every meal healthier and exciting.

Lead. Serve. Love. by Gregory Lang. (Thomas Nelson 2011)
In Lead. Serve. Love., six-time New York Times bestselling author Gregory Lang provides a simple guide for helping the everyday person embark (or continue) their journey to live as Christ lived. There are 100 easy-to-remember, easy-to-follow three-word action sentences followed by a short, thought-provoking description of how to apply and live out the gospel message in today's world. These practical ideas and supporting scriptures will inspire believers to become true followers of Christ.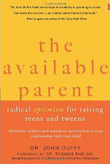 The Available Parent by Dr. John Duffy (Viva Editions 2011)

Have you ever been bewildered by the changes in your child and your sudden lack of effectiveness as a parent? When hugs and family fun have been replaced by silence, slamming doors and an ever-changing array of moods, you need new tools. Top teen expert Dr. John Duffy has encountered all of this and more in his family counseling practice and offers excellent advice, clear strategies and teen-tested solutions in The Available Parent. Using the techniques in The Available Parent, you can begin to enjoy a healthy, satisfying, new kind of relationship with your teenager—one based on a foundation of radical optimism, rather than fear-based control.

100 Sounds to See by Marsha Engle and William Huber (Health Communications, Inc. 2010)
With all the distractions that are part of our waking hours, it is no wonder that the simplest sounds of an ordinary day are taken for granted. Sounds like the crackling of ice, raindrops on a rooftop, the crunch of toast as its buttered, and even turning the page of a book are so commonplace that we seldom--if at all--take time to appreciate them. Yet, when the ability to hear these everyday sounds is taken away—as in Marsha Engle's case—we are humbly reminded of their value. As she slowly lost her hearing, Marsha collaborated with photographer William Huber to capture these ordinary sounds in stunning photographs, and they have collected them here in this unique and breathtaking book for both the hearing and hearing impaired to enjoy. Endorsed by Emmy-award winning acoustic ecologist Gordon Hempton, 100 Sounds to See is a tribute to the beauty of hearing and a gentle reminder to the hearing world to listen to and appreciate everyday sounds.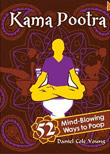 Kama Pootra by Daniel Young (Sourcebooks 2010)
The only known translation of an ancient manual instructing readers in the art of enlightened bathroom experience, the Kama Pootra offers a thrilling rediscovery of the tiled path to porcelain nirvana. Willing seekers will find fifty-two progressive positions designed to maximize how you do number two. Every time the bathroom door closes, a new experience awaits.